An Overview
Microsoft Dynamics AX is a comprehensive enterprise resource planning (ERP) solution for mid-size to large enterprises, empowering people to work efficiently, adapt to changes in the market, and compete globally.
Microsoft Dynamics AX is an ERP solution for multi-site, international enterprises. With capabilities for financial, human resources, and operations, it provides a comprehensive set of functionalities to run your enterprise, with the agility required to accomodate a wide variety of processes, workflows and business conditions.
Microsoft Dynamics AX gives organizations an exceptional customer focus by being able to take advantage of cloud services, run agile operations that exceed customer needs, and help engage customers on their terms across the Web, social, apps and mobile fronts.
Capabilities
The standardized processes of Microsoft Dynamics AX make it easy to operate worldwide, providing visibility across your organization and helping to simplify compliance. You can be confident that with Microsoft Dynamics AX, your business management solution will continue to fit the needs of your customers, the demands of your industry and the goals of your business, all in a single ERP solution.
Improve productivity –
With familiar, easy-to-use tools and access to RoleTailored information, you will work faster and make more proactive decisions.
Manage change and growth –
Scale your business systems and more effectively manage changes in the marketplace, such as new product launches, mergers and acquisitions.
Support the connected enterprise –
Scale globally by taking advantage of cloud services. Run agile operations and connect employees by enabling real-time access to insights on any device
Compete globally –
Control the complexities of a global organization with one centralized ERP solution that helps you standardize processes and gain visibility, all while staying in line with local regulations.
Built for your business and industry - Manage all your core business functions efficiently. Choose from innovative, industry-specific functionalities to manage your supply chain, projects and more
Simplify compliance –
Stay ahead of regulatory compliance and reduce liability associated with corporate governance and customer initiatives.
Rapid and flexible deployment –
Built on Microsoft Azure, Lifecycle Services streamlines implementations, upgrades and customizations. SBS leads the charge in cloud delivery of custom industry solutions
Add on's Solutions by B2B Software: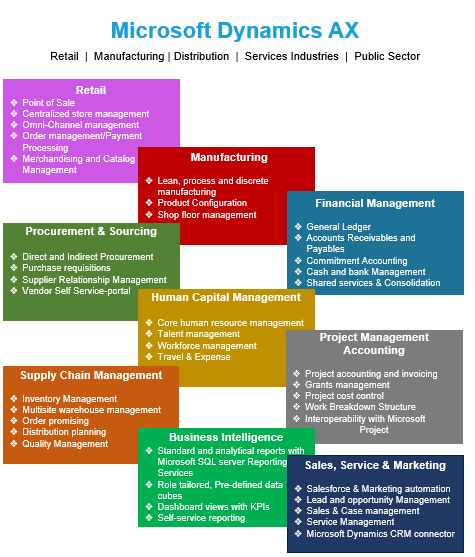 Microsoft Dynamics™ AX can help you outpace your competition with an easy-to-use solution that works like and with familiar Microsoft software like Office, and automates critical business processes, eliminates manual data re-entry, and helps your people make the fast, informed decision-making that is crucial to driving profitable operations and meeting customer demand.


For more details:https://www.microsoft.com/en-in/dynamics365/ax-overview